Minnesota Escape Games
You can run, but you can't hide! Minnesota's Escape Games will challenge you with full terror and confusion, leaving you racing to find a way out. Each attraction will have its own theme, so get ready to try out all missions this Halloween season with family and friends! You're sure to have a fun time, even if it means screaming your way out.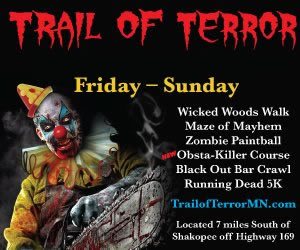 Located in Shakopee
Open today!
Trail of Terror is considered the Twin Cities largest and scariest Halloween event with more than 2.5 miles of scares and horror indoors and out. Some of our attractions include Zombie Paintball, Running Dead 5K, Black Out Bar Crawl, Maze of Mayhem, the Wicked Woods Walk, and the challenging Read More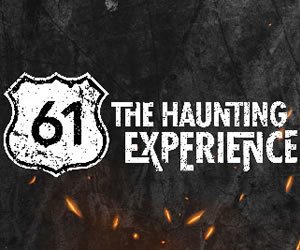 Located in Cottage Grove
Open today!
The Haunted House Decades piled upon decades of insanity have made the homestead of our resident family nearly impassible. Try if you dare to navigate the winding corridors, claustrophobic tunnel systems, and dwelling spaces of some of the most depraved beings you'll ever care to witness. You'll be Read More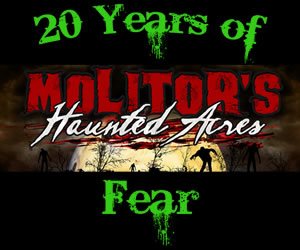 Trail of Terror is considered the Twin Cities largest and scariest Halloween event with more than 2.5 miles of scares and horror indoors and out. Some of our attractions include Zombie Paintball, Running Dead 5K, Black Out Bar Crawl, Maze of Mayhem, the Wicked Woods Walk, and the challenging Obsta-Killer Obstacle Course!

Read More

Categories: Haunted Houses | Zombie Hunts & Shootouts | Haunted Mazes / Haunted Corn Mazes | Spook Walks / Haunted Trails | Halloween Parties & Nightlife | Escape Games | Scream Parks | Zombie 5k Runs | Pub Crawls | Other Events

The Haunted House Decades piled upon decades of insanity have made the homestead of our resident family nearly impassible. Try if you dare to navigate the winding corridors, claustrophobic tunnel systems, and dwelling spaces of some of the most depraved beings you'll ever care to witness. You'll be assaulted with sights, sounds, and smells of the most diabolical nature. You'll wander...

Read More

Categories: Haunted Houses | Haunted Hay Rides | Zombie Hunts & Shootouts | Haunted Mazes / Haunted Corn Mazes | Halloween Festivals & Parades | Escape Games | Scream Parks | Hay Rides (Kid Friendly) | Not-So-Scary Haunted Houses (Kid Friendly) | Mazes / Corn Mazes (Kid Friendly)
Haunted Attraction

Zombie Attraction

Farm Attraction

Hayride

Pumpkin Patch

Corn Maze

Escape Game

Ghost Tour

Halloween Party

Other Attraction