2022 Question and Answer With Duluth Haunted Ship
Home » Blog » Minnesota Haunts: An In Depth Look
October 1, 2022 By Haunt News & Press Releases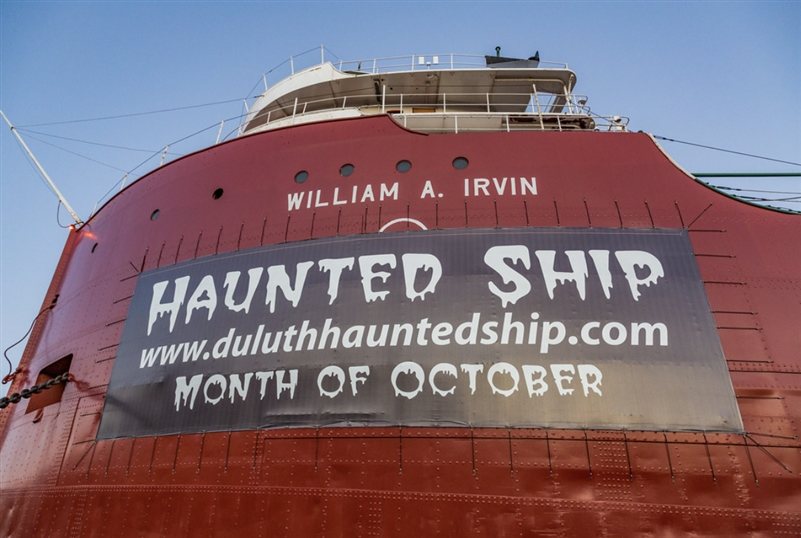 Duluth Haunted Ship
MinnesotaHauntedHouses.com recently sat down with Lucie of Duluth Haunted Ship, to discuss what's new at Duluth Haunted Ship for the 2022 Halloween Season!
What's new at Duluth Haunted Ship for 2022? Do you have any new rides, attractions, or special features that Haunt Seekers should know about?
New pathway through the hull of the ship leaving more room for more haunt! We've also invested in more tech and a few new surprises.
What are you most excited about for the 2022 Halloween Season?
There are a few surprises at the end -- looking forward to guests' reactions!
What differentiates Duluth Haunted Ship from other local haunts in Minnesota?
As far as we know, we are the ONLY haunted ship around. And because it's over 600 ft with many levels, there's really nothing like it. The pitch black of the hull is unbeatable.
How long has Duluth Haunted Ship been in business? Can you tell us a bit more about Duluth Haunted Ship's history?
Duluth Haunted Ship began in 1992 and has been improving every year since. (It did take a hiatus from 2018-2020 for repairs and Covid.) The retired ore freighter was built in 1938 and many say it is haunted. There's a whole paranormal page on our website: www.duluthhauntedship.com
What's your favorite experience since opening Duluth Haunted Ship?
The community that comes together to make it happen. From the set builders and designers to the legion of volunteer actors, for that month they are a family that has dinner together every night.
How long is a typical haunt experience at Duluth Haunted Ship from start to finish?
It is approximately a 30-minute walk-through. We suggest going slowly and trying to take in the immense level of detail!
On a scale from 1 to 10, how scary would you say Duluth Haunted Ship is? Why?
I would say it's about an 8. There are surprises, but our actors do not touch or chase you.
Does Duluth Haunted Ship's property have any real haunted history? Do you have a spooky encounter you'd like to share?
YES! A sailor sadly died on the boat in the 1950s and many feel a little girl spirit resides on board. Learn more here: https://duluthhauntedship.com/paranormal/
Can Duluth Haunted Ship accommodate large groups? How many people can experience Duluth Haunted Ship together as a group?
Yes! Large groups are welcome!
Does Duluth Haunted Ship offer any special deals, discounts, or coupons?
COLLEGE STUDENTS
College Student Tickets – $10 with valid student ID. Discount not available for online sales.
For groups of 20 or more, please contact: Group Sales Manager

Phone: 218.623.1236 or irvin@decc.org

Bring a canned good for $2 off a ticket bought on-site.
Anything else you'd like to let us know about Duluth Haunted Ship?
Duluth is an inherently spooky place, and an old freighter on Lake Superior is just about perfect for Halloween.